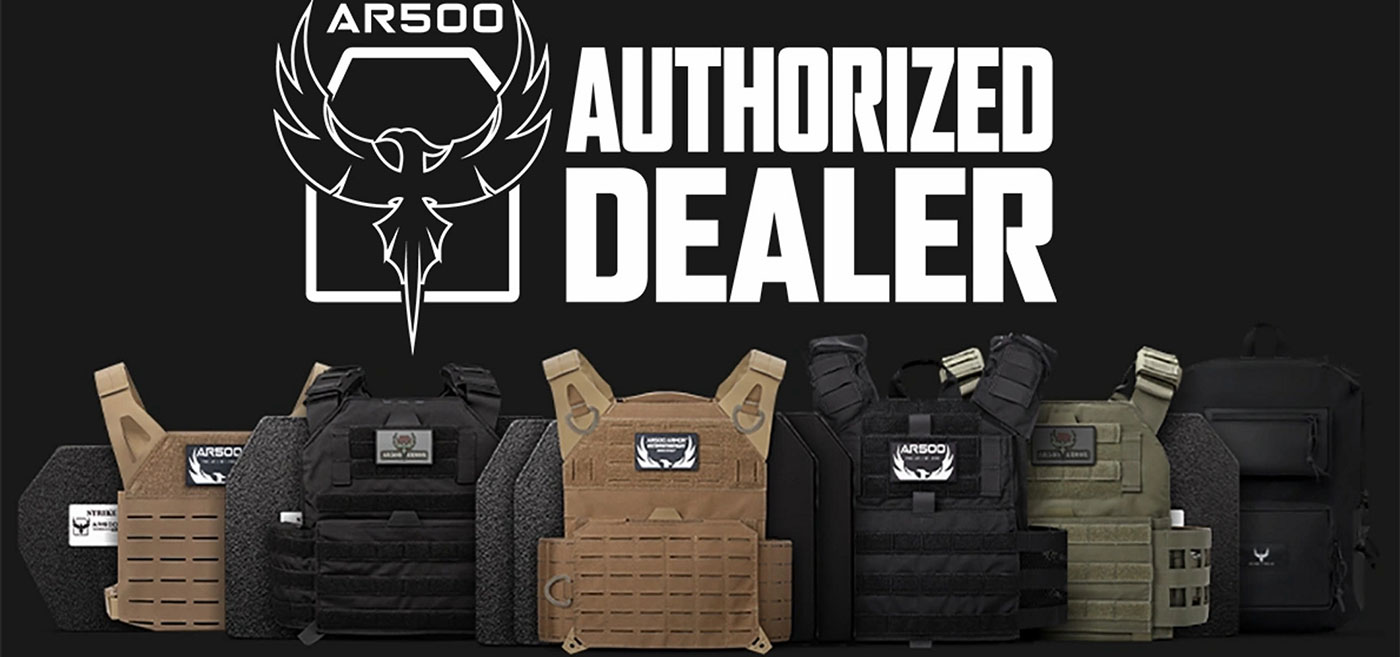 AR500 Body Armor and Products
What AR500 Body Armor is right for you?
AR500 Armor® uses  imported aramid fibers for soft armor and an advanced ballistic grade steel core as the backbone of our armor. This material is much harder than traditional steel and other alternatives of "steel armor" currently on the market. Our material is specially designed for us and to our standards for use in ballistic applications. The combination of our ingenuity, manufacturing techniques, and experience in the armor and tactical gear industry allow us to produce armor that is unmatched in performance and quality. Our in-house manufacturing allows us to offer our armor at a realistic and affordable price point.
The core of AR500 Armor® body armor measures in on the Brinell Hardness Scale (BNH) between 504 and 519. Reliable traits of our core such as consistent thickness and temper are what we've built our reputation on. AR500 Armor® is known for producing reliable and effective body armor solutions. Simply put, we use the highest quality ballistic grade steel available in the industry. Few in the industry have the ability to obtain the same quality material and utilize our unique manufacturing techniques.
We encourage you to be wary and do your research on any armor solution you choose, regardless if you decide to purchase elsewhere or from us. Look for quality and a reputation you can trust as not all "steel armor" is created equal and required to meet strict quality standards and product testing standards.
AR500 Armor® Level II (Pistol Rated) Body Armor
Level II Soft Body Armor is capable of defeating pistols rounds up to .357 magnum, and lesser pistol rounds; to include 9mm, .40 S&W, .45 ACP, & .38 special! Making it an ideal and affordable choice for protection against the most statistically common handgun threats.
Level IIIA body armor is Stand-Alone and Multi-Hit capable and designed to defeat pistol caliber threats up to .44 magnum, and .357 SIG at 1,430 feet per second or lower, including all lesser pistol calibers. 
We offer three Level IIIA armor types:
Rimelig:  This soft body armor is for everyone! It can be applied, both in the field, and in every-day life, without a serious tax on your wallet. Get the performance you expect from AR500 Armor® Body Armor, without a sacrifice in quality or value. Constructed with Imported Aramid Fibers, Rimelig armor is designed, cut, sewn, and assembled right here in the USA. All soft armor has a limited 5 year warranty.
Hybrid:  Our flagship Hybrid IIIA soft body armor is constructed from industry leading materials from Honeywell Spectra Shield®, Gold Shield®, and other ballistic fabric from respected manufacturers.  We've harnessed the full ballistic capabilities of these materials maximizing synergy between components; creating the ultimate Hybrid IIIA soft body armor panel. The result is an ultra-light, thin, high strength, and flexible armor system in a 1lb package (10″ x 12″ ASC model)! All soft armor has a limited 5 year warranty.
Steel:  All the ballistic protection of the Hybrid and Rimelig armor systems, while also being stab and slash resistant! Steel also has a 20 year warranty period! Our lightweight level IIIA steel plate comes standard with a build-up coating of our PAXCON anti-spall and fragmentation material, as well as an ergonomic curve ($45 value!).
 Level III+ body armor features an improved ultra-hard ballistic steel core, further enhancing performance over our level III line. With nearly 30% increased core strength, our level III+ is capable of defeating higher level rifle threats. Level III+ armor offers enhanced ballistic protection against following threats:
Independently tested and rated to NIJ 0101.06 standards to defeat six (6) rounds of 7.62×51 M80 NATO Ball from 51' at 2,780 feet per second.
Special Threat tested to defeat 5.56 x45 M193 and 5.56×45 M855/SS109 (Penetrators) at 3,100 feet per second.
Special Threat tested to defeat 7.62×51 M80 NATO Ball (non-AP) at 3,000 feet per second.
DEA Certified to:

.223 Remington Tactical Bonded Soft Point, 62 grain @ 2,600 +/- 50 fps
5.56 x 45mm M855 (Green Tip), 62 grain @ 3,100 +/- 50 fps
7.62 x 39mm Mild Steel Core, 123 grain @ 2,400 +/- 50 fps
7.62 x 51mm M80 Ball, 149 grain @ 2,750 +/- 50 fps
.308 Winchester PSPB Core-Lokt Ultra Bonded, 150 grain @ 2,600 +/- 50 fps
Learn More about Body Armor
Stop in and check out our selection or talk to our staff and see if we have something that is right for you and your loved ones.